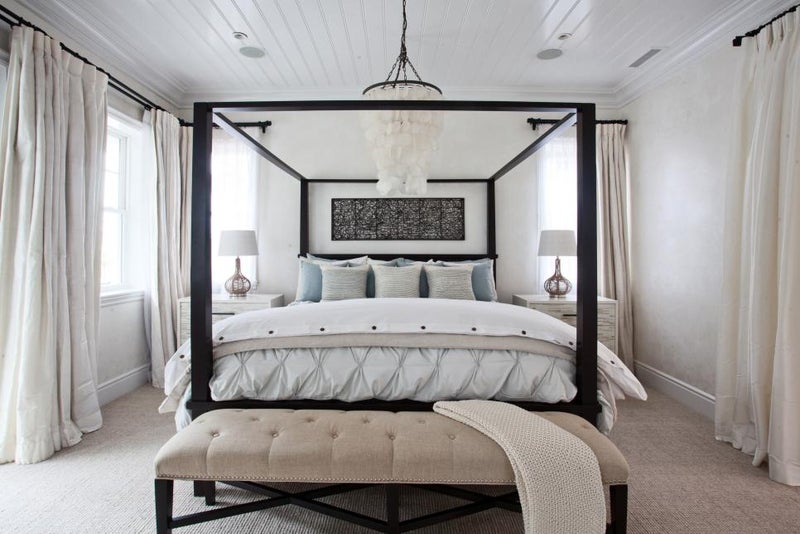 Our lives can be hectic and busy with children, jobs, and responsibilities. Shouldn't you and your spouse have a romantic bedroom to retreat to every night?
By creating our own romantic retreat in the bedroom we can finally have a place to really relax and enjoy cozy time with our spouse during these difficult times, when there isn't a restaurant or spa to escape to.
I know for me it helps to have a well organized, clean, and comfortable space to relax in. It helps me to fall asleep more easily and when I just need time to myself I can always escape to my bedroom. 
There are a few ways to achieve a more romantic and relaxing master bedroom and with Valentines Day approaching I'm sharing those in this post so you can have a relaxing room too.
Adding a canopy over your bed is like adding instant elegance and a romantic feel to your entire bedroom. Hang a unique chandelier in the room and put it on a dimmer. This allows for you to style your room exactly how you want to, while still dimming the lights to set the mood.
The right type of bedding can be all the difference in your room looking like your college dorm room to being a romantic retreat. 
Throw pillows can be a great way to add extra comfort to a bed. Our natural inclination when we see a pillow is to lay down and get comfortable.
The key to making any bedroom romantic is to remove the things that take away from that romance.Keep pictures of family out of your bedroom. Nobody feels romantic with pictures of your parents or your kids in the room. 
Romantic bedroom decor isn't hard to achieve just think about what things make you feel comfortable or sexy and go with it.
Do you have questions about decorating or designing your home?  Or, are you considering preparing your home to sell and want to know how we can help?  Click here to contact us.